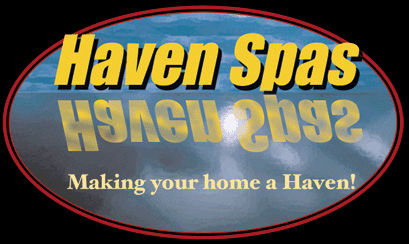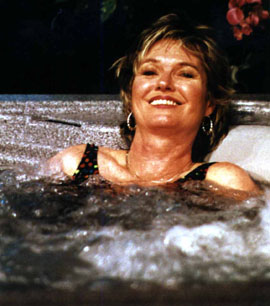 SpaSpecialist.com
Haven Hot Tub Models and Prices

Each year we keep on
improving,
while the major spa companies are forced to reduce the quality move to Mexico, use Chinese parts and raise prices. Now our lowest priced spas are much higher quality than the expensive low quality of pretty much all the other brands and models. When we discovered the Internet in 1995, we realized that it was the way to go. Low overhead, better quality for less dollars, with a short food chain. If you can find a better quality spa than Haven, show it to us, because we have not seen one. You cannot produce high level of quality of spas, with old fashioned, hyped up, marketing programs and too many people to pay. Something has to be cost cut and that is quality or your prices have to be extreme. That is fact, and now the competition will never catch up to this quality and value, because we are so far ahead in the Internet Marketing. We started before anybody and we have outlasted all the other "Internet" spa stores, because of our dedication to seeking perfection in quality hot tubs and dedication to service. The only thing that may be stopping you from experiencing the best is you not owning one.
Click Here to find a Haven Representative in your area!
Eclipse Models

,
Super Value spas packed with therapy.



These have no competition in today's market, except for the higher end Haven Spas.

Paramount Super Custom Magnum Models

.
Extreme Therapy and Reliability, Extreme Energy Savings!
Quiet and Powerful.
In a class by themselves.
No Competition!
"Never lost a wet test."
Unbelievable level of quality and reliability
This is it! If you want to see what a "dream spa" is, this is it. These are totally without a peer in the spa indstry.

Vista Model Hot Tubs

, Premium High End spas, with moderate prices.

SE Model Hot Tubs. Super Premium Models,
Special filtering and plumbing systems to offer longer life powerful jets, and quiet operation. Extreme Energy Savings!

Paramount Spas

, Most features and great therapy,
Way above and beyond the industry standards! They will never catch up.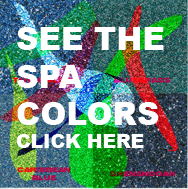 Haven Spas are not Cold Tubs, they are Hot Tubs! CLICK HERE
LOOKING FOR A HOT TUB??


Are You Wanting to Buy a Spa??
Then you need this book! E-Book PDF version.


Are You Wanting to Buy a Spa??
Then you need this book! over 12,000 copies sold to buyers who saved a lot of money and grief from not knowing what they were getting themselves into. Now you can download an E-Book versoin for less.