The Spa Specialist Inc.
presents
The Awesome Haven Pinecove Spa
If you are looking for great therapy in a smaller package, the Haven Pinecove Spa is it.
With twenty cyclone jets and twin 5 HP pumps;
1.5 HP Air Pump with Turbo Air! The Pinecove has tremendous therapy. Like all the standard Haven models it is equipped with full air injectors.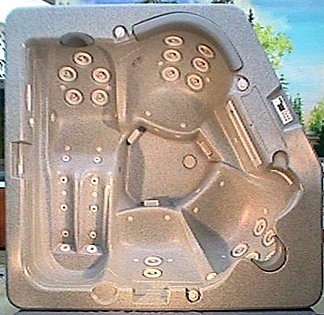 The Pinecove is a compressed version of the "Fallsburg" spa. It has a copy of the lounge, the "Six Jet Seat", the "hot seat", all of the main therapy seats with some slight differences. All of the standard features are included, full internal 2x4 framing, thermal sealed insulation and cabinet.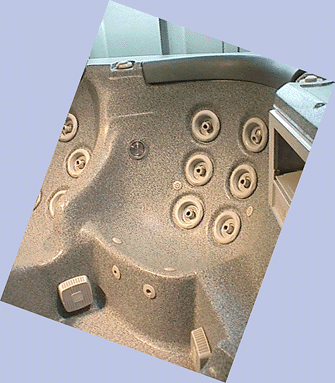 This photo shows the "Six Jet" seat. This seat has the amazing ability to massage your back from several angles. You can slide from side to side to get spots not possible in other spas. Notice the two foot jets in the foot well. When sitting in the opposite seat, these foot jets are positioned for easy reach. They are the medium "bullet" style that offer good pressure on the bottom of your feet.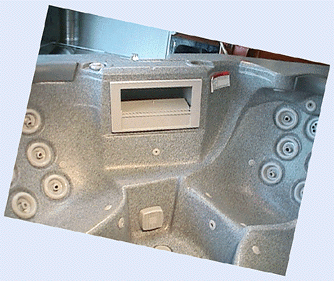 This photo shows the filter housing that sits between the main "hot seat" and the "six-jet seat". The filter is the 100 square foot twin vertical 50's filter system used in all the high end models.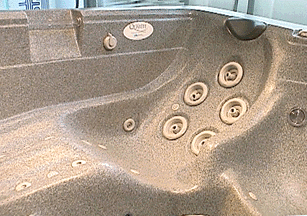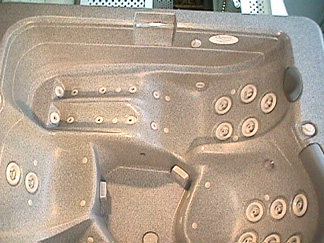 These two photos show the lounge from a couple of angles. This is an "anti flotation" lounge, with elevated legs. It has eight water leg jets and four air leg jets, with a shut off and variable adjustment for the leg water jets. Notice the hip jets in the lounge seat.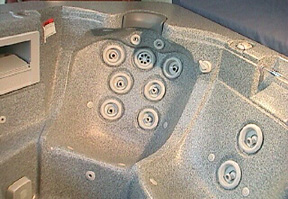 The main "hot seat" has 7 of the cyclone style jets. Note the new pulsater jet in the center top. 11 water and 4 air jets make this seat really nice. We have a handle shutoff on the above water neck and shoulder jets (shown just right of the seat . All of the water jets in the hot seat are adjustable.
New features available on the Pinecove spa.
Stereo CD AM/FM
Fiberoptic lights
TV with remote and VCR
Pinecove Specifications

78 x 84 x 36
(Sides dimensions, clockwise starting with lounge side: 78,62,47,36,84)
Seating positions 4


Weight: 750 LB empty.


Number of water jets 39 standard ( two wrist jets optional)
Number of air jets 18
Deluxe Programmable digital controls (optional second control available)
Water pumps 2 each 5HP (16.5 amp)/56 frame Magnetek motors.
Air pump is 1.5 HP/ 2 BHP two speed. Super quiet!
Framing 2x4 structural with 2x4 pressure treated bottom framing
Insulation Full Thermo-Sealed.
Hot seat 15 jets with neck and shoulder collar and hip jets.
Three foot jets in the foot well
Second hot seat six cyclone jets
Lounge 22 jets (plus optional 2 wrist jets) with hip, foot,leg and calf jets
Quad Fifty square foot filter housing (200 sq ft total)
Light is two intensity with two colored lenses supplied
2.5 inch suction fittings,
2 inch pressure lines to manifold
Primer glue and spring steel clamps on barbed fittings.
Capacity in U.S. Gallons 250 fill over 300 top.
20/7/5/3 not prorated warranty.

60 Amp 1Phase. 4 wire service required.
published on the web by
The Spa Specialist Inc.
14971 Raritan St. Broomfield, Co 80020
(303)-404-AAAH! (2224)
toll free 1-888-478-2224
EMAIL
Copyright 1997, 1998, 1999, 2000, 2001,2002,2003,2004
You may down-load this for your personal use. Duplicating or publishing any part of this
document for commercial use, without written permission, is strictly prohibited.