The Spa Specialist Inc.
Presents the
Haven Harbor Spa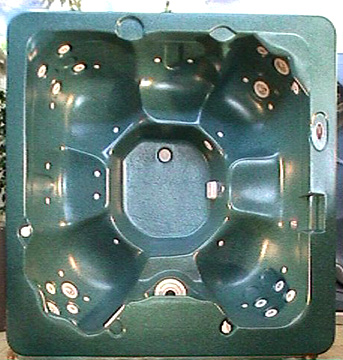 Haven Harbor Silver Model
83 inches square by 36 inches deep.
41 jets total 5 HP water pump and 2 HP air pump with Turbo Air!


The Haven Harbor spa is a 7 seated spa without a lounge. It is, in many ways, the compliment to the Haven Glenwood spa. It is equipped with an identical equipment pack.

This photo shows the 11 jet "hot seat". The Harbor is a symmetricly seated spa. There is an opposite seat with similar jetting. This is an excellent jetting arrangement. With two cyclone jets and six midsize jets along with three air jets; this seat rocks!

As usual, in all the Haven models we use a variety of fully adjustable jets. The water intensity is adjustable by turning each face on the jets. The Cyclone jets are adjustable for deflection, so you can have a small circular fast spinning jet or a larger circular rotation. These are my favorite jets.

This is the mirror image seat with the twin cyclone jets and four midsize jets. Because this is a one water pump and one air pump spa, we need to keep the water jets under 25, so we have jet recesses without jets. In the Harbor Gold model there are two 4 HP pumps and all of the jet recesses are filled with jets.
The angle of the above water neck and shoulder "blasters" provides a unique massage on the top of your shoulders and your neck.

Notice the foot/calf jet in the foot well and the three multiport air jets. We take the air jets and make them a focused multiple spray nozzle. Each air jet acts like several air jets.

This is our standard 50 Sq. Ft. filter housing. It is a "floating weir" type. We put these filters in so there is no need for a dangerous loose filter lid. The top is fully functional for sitting drinks or people on. Just like nearly all the Haven Spas, you can place drinks all around the top lip of the spa. You can also sit anywhere on the upper lip of the shell.

This pictures another seat with four water and three air jets. These are the medium size, adjustable, spinning style of jets. The seating is more open with bucket style seats in the four corners. This is a really nice spa. Some people prefer an extra seat and no lounge. This spa is perfect for families that need extra room inside the spa, in a moderately sized spa footprint.

This is the opposite seat to the seat shown above. The spa is a sort of mirror image set up. We put four jets in the upper recesses in this seat to give different therapy from the seat opposite. Notice the light and the hand rail. We place the light so it is easy to replace the bulb from the outside and it has a high illumination point, giving a better and safer interior lighting.

The NSPIand UL tested 2.5 inch safety suction fitting is shown at the bottom. In order to insure a high volume of water to the pump, a large open suction is necessary. Some of the lower quality spas are using 1.5 or 2 inch suction fittings.

At the top of the three fittings is the ozone jet. We use a standard ozone jet that functions better than the tiny circ pump spas. By bringing in the ozone into the water vessel and swirling it into all of the water, while having a blanket on top, ozone becomes more efffective.

The center fitting is the temperature sensor "dry well". Temperature is taken in the actual seating area .
Haven Harbor Specifications
Specifications
83" square by 36" tall
Seating positions 7
Number of water jets 23
Number of air jets 18
Programmable Digital Controls
Water Pump 5 HP
Air pump 2 HP with Turbo Air!
1/2" Redwood cabinet with lip over shell design
Framing 2x4 structural 2x4 pressure treated
Insulation Full Thermo-Sealed with DAIT level 1
Hot seat 11 jets with Neck and Shoulder above water
Foot well jet
Second hot seat 9 jets and neck and shoulder jets.
50 sq ft filter housing.
2.5 inch suction fittings
2 inch pressure lines to manifold.
Capacity in US Gallons; 350
10/5/2 not prorated warranty
(extended warranty available)
240 Volts 50 Amps 4-wire
published on the web by
The Spa Specialist Inc.
14971 Raritan St. Broomfield, Co 80020
(303)-404-AAAH! (2224)
toll free 1-888-478-2224
EMAIL
Copyright 1997 1998, 1999,2000 2001,2002,2003
You may down-load this for your personal use. Duplicating or publishing any part of this
document for commercial use, without written permission, is strictly prohibited.